EPFC Screening at Heavy Manners Library May 15!
Echo Park Film Center Presents: A Sound We See Double Feature
We're coming back to the neighborhood! Join us for a special double feature hosted by Heavy Manners Library right next door to our former spot at 1200 N. Alvarado Street! The screening will feature two films from our legendary Sound We See  series–Los Angeles and Uzbekistan–shown back to back on Sunday May 15th at 7pm. Tickets are  "pay what you can" donation based.
More about the films…
Discovering and redefining techniques of past avant-garde urban documentarians, 37 teens with little or no prior filmmaking experience worked with 16mm cameras and black and white stock to create a stunning 24-hour cinematic journey with each hour of the day represented as one minute on film. The Sound We See: A Los Angeles City Symphony is the first in this international series and was made in 2010.
The 23rd incarnation in this ongoing international series, The Sound We See: Bukhara was filmed on Super 8 and processed with local green tea and hazorispan ("Herb Of A Thousand Problems") by a multi-generational group at The Bukhara Photo Gallery in Bukhara, Uzbekistan. October/November 2021.
More info and RSVP here:
https://heavymannerslibrary.com/events/echo-park-film-center-presents-a-sound-we-see-double-feature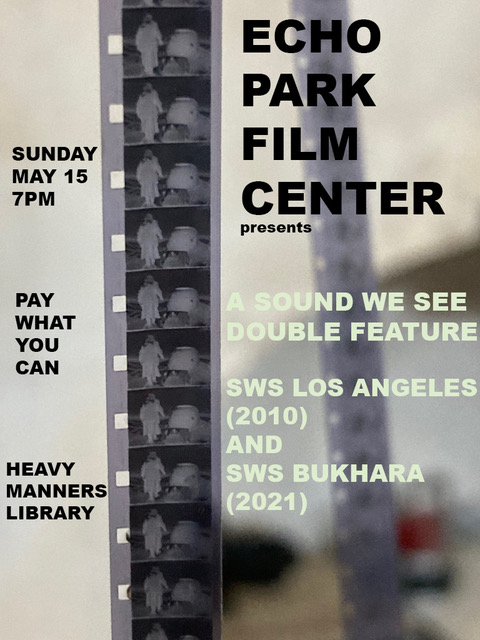 No Events